2017 Festival Information August 26 and 27, 2017
Join us in Kelowna on August 26 and 27 for the annual Kelowna Dragon Boat Festival!
Location: Tugboat Bay in Waterfront Park Kelowna.
Early bird rate: $1000 is prior to July 15, 2017
Regular Rate $1150 July 16 and onward.

Save $150 in celebration of Canada's 150th birthday!
Kelowna-based teams are encouraged to pay via cheque.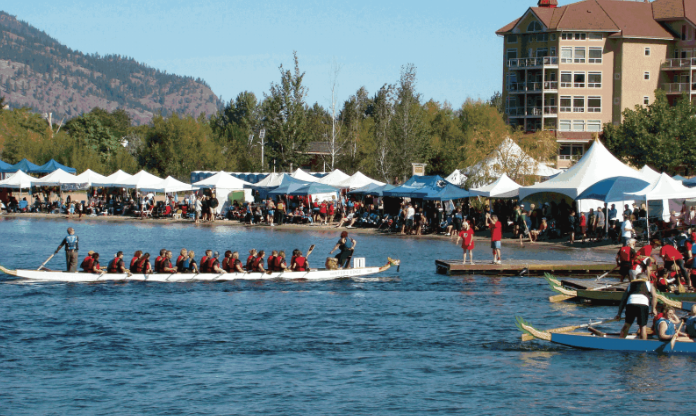 The Kelowna Dragon Boat Festival welcomes the following teams who have registered:
Mixed
DASA DRAGONS
DRAGON ZONE TWISTED HIPS
HIGH FREQUENCY
KAMLOOPS INTERIOR DRAGONS
LIFT WHAT'S DRAGGIN'
ODBRC ROGUE DRAGONS
RAUNCHY RODENTS
SONAR DRAGONS
Women's
BUST'N LOOSE
DRAGON IN THE DRINK
FIRE ON WATER
FLOWRIDERS
KNOTTY PACERS
KOOTENAY ROBUSTERS
KNOTTY PACERS
KOOTENAY ROBUSTERS
NORTHERN SPIRIT DRAGON BOAT TEAM
ODBRC DRAGONFIRE
PENTICTON DRAGON BOTTOMS
SISTERS N SYNC
SPITFIRES
STROKE OF LUCK
TEAM CHAWANDA
THUNDER DRAGONS
VALLEY VIXENS
WAKE MY DAY
WOMEN ON FIRE
It's not too late to join us! Click here to register.
The 2017 Kelowna Dragon Boat Festival is featuring Hotel Zed, The Coast Capri Hotel and the The Holiday Inn Express for accommodations during the festival. Mention you are participating in the Kelowna Dragon Boat Festival and receive a special dragon boat rate!



Hanna's on the Waterfont will be hosting our paddlers party on Saturday, August 26 from 6-11pm. Contact [email protected] for more information!

Click on the images above to visit their websites.
Thank you to the following sponsors of the 2017 KDBC Dragon Boat Festival!

---